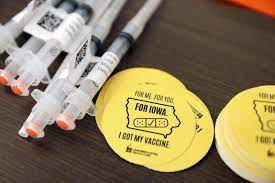 The Iowa Department of Public Health reports more than 2.6 million COVID-19 vaccine doses have been administered in the state.
IDPH reported 89 new positive COVID-19 cases and six additional deaths Monday. At 10 a.m., IDPH reported 399,555 total positive tests, 354,950 total recoveries and 6,006 total deaths since the start of the pandemic. A day earlier, IDPH reported 399,466 total positive tests and 6,000 total deaths.
State data shows 1,265,610 people have fully vaccinated against COVID-19 in Iowa, with 2,606,205 total doses administered in the state. Find out how you can get vaccinated in Iowa here.
Iowa's 7-day positivity rate remains at 2.9%, while the 14-day average is holding steady at 3.3%. There have been 4,954,750 COVID-19 tests administered in Iowa.
COVID-19 hospitalizations are at their lowest levels in Iowa since June of 2020. There are 137 patients hospitalized with the virus, down from 145 the previous day. There are 41 patients in ICU and 19 patients on ventilators.
Iowa reports a single long-term care facility with a virus outbreak. There are 10 positive cases among residents and staff at Risen Son Christian Village in Pottawattamie County. Iowa reports 2,336 care facility deaths.
IDPH provides COVID-19 data in real time on this website. KCCI publishes a daily data summary at 10 a.m.